2022 Fantasy Football Dynasty Leagues: Taking Over an Orphaned Team
Published: Mar 03, 2022, 10:30 AM EST
Taking Over an Orphaned Dynasty Team
In the first installment of my Dynasty Fantasy Football League series, I took a broad look at dynasty fantasy football as a whole and took a dive into sites that host dynasty leagues, roster settings, scoring settings, and everything you should know when first starting your dynasty journey.
Here, we're going to take a look into one specific avenue when it comes to joining a dynasty league: taking over an orphaned team.

What is an "Orphaned Fantasy Football Team?"
Well, it's not a trip to Broadway as one might when you think of an orphaned dynasty team. Sadly, Annie, Sandy, and Daddy Warbucks aren't going to help you here.

Some instances where a dynasty league may have an orphaned dynasty team include:
A roster that a fantasy manager neglects to the point where very few prospective managers want to take the team over, or

A roster that the former manager needs to relinquish due to lack of time, a manager being in too many leagues, money, conflicts with other managers, or other unforeseen factors.

As commissioners look to fill their leagues with active fantasy managers, they usually cut the league fee to a degree, knowing that in most cases, the roster left behind is usually one of the worst ones in a particular league. So it's not only an excellent way for somebody brand-new to the world of dynasty fantasy football to dip their toes into the dynasty pool but a great way for a seasoned manager to build up a roster from a zero to a hero. Think "Extreme Makeover: Dynasty Edition," except you can't rebuild a dynasty team in one episode.

Where do I find an "Orphaned Fantasy Football" team?
As we detailed in the initial installment of our Fantasy Alarm dynasty series, using social media is a great way to find dynasty leagues looking for managers to take orphaned teams. Twitter, the FantasyAlarm Discord channel, and sites like SafeLeagues or MyFantasyLeague are excellent sites with listings for teams needing managers. In particular, the great Scott Fish usually alerts prospective fantasy managers to leagues needing teams, usually after the NFL Draft when most dynasty leagues are getting towards their rookie drafts.


Taking Inventory of Your Dynasty Roster
You'll want to take inventory of what players and assets you have on hand before you can go and make trades, add free agents, with the ultimate goal of improving your team. What I would do as a new manager is see what starting positions I have to make a lineup and then put the players I currently have into a lineup and go from there. Something like this:
Yes, your roster might look as bad as this. Or worse. Most orphaned dynasty teams aren't ready-made teams. They are likely multi-season projects. It's certainly possible that a dynasty orphan you take over may not have nearly as many (or any) draft picks, but it's all about how much work you want to put into it. It could take multiple seasons to pull a team out of a hole if it doesn't have any draft picks and has an older core of players.
Taking inventory on a roster puts everything right before you and allows you to make a battle-plan of sorts. What positions am I weak? What is my team's strength? What players would I feel comfortable putting into a lineup each week? Who is able to be cut this second?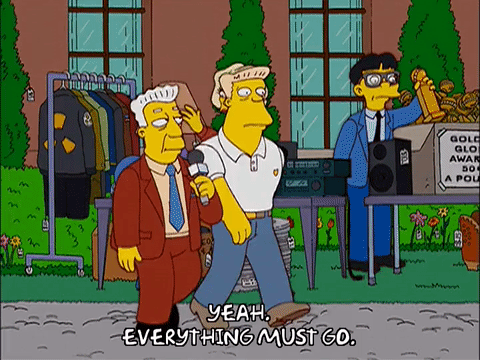 The most important question I'll ask after assessing a roster is this: do I have pieces on my roster whose value could appreciate at a given time? If I do, then those are the pieces that would be the most attractive in a potential trade.
Use the league calendar to your advantage as well. Say with Mike Evans, for instance. What if the Buccaneers acquire a top veteran starting quarterback? Evans' value immediately sees a boost. That could be the prime opportunity to get everything you can get in return for a player like Evans. What if free-agent wide receiver Russell Gage lands in Buffalo? That would be an immediate upgrade to Gage's value, as we've seen him be pretty productive at times with Atlanta.
Also, use free agency and your FAAB (Free Agent Auction Budget) to add any free agents that could be attractive. There likely aren't many worthy free agents currently sitting out there, but there are plenty of useful players over the last couple of seasons that have been found in dynasty free agency. Names such as James Robinson, Gus Edwards, Logan Thomas, Ricky Seals-Jones, Tyler Conklin, Russell Gage and Cordarrelle Patterson come to mind.
The last thing I'll mention regarding roster assessment: even if you're losing, you're still winning.
If you had this team like the team I laid out above, and the previous fantasy manager neglected the team, it's very likely this team finished at or near the bottom of the standings. You're looking at a top draft pick when a rookie draft commences, establishing the fact that you're either getting a top young player or the potential trading of that pick or a young, ascending player in the NFL.


At the end of the day…
The roster you take over is yours. The world is your oyster. Assess your team, introduce yourself to your league-mates, send out trade offers, and put your stamp on your team. Rome wasn't built in a day. This team will likely take more than one season to turn around and make into a perennial contender in your league.
Your roster may be initially bleak, but as they say in Annie:


RELATED LINKS
Fantasy Football 2022
Player News
{{item.text}}
{{analysis.analysis}}
{{item.datetime}} (ET)