Fantasy Baseball Minor League Scouting Reports Claim Your FREE Entry
Fantasy Baseball: Minor League Scouting Report
by Michael Pichan (@FantasyNomad)
[caption id="" align="alignnone" width="600"]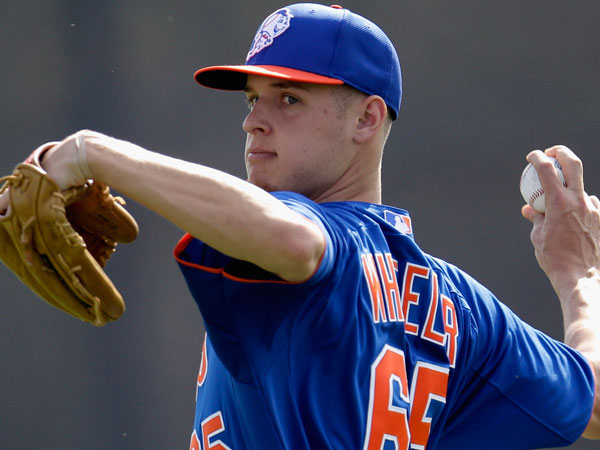 Mets top prospect SP Zach Wheeler[/caption]
Cardinals OF Oscar Taveras Triple-A Memphis
Cardinals top prospect, OF Oscar Taveras, injured his right ankle sliding into second base Sunday and was helped off the field. He  is day-to-day as  X-Rays taken showed no structural damage, and is likely to be back on the field within a few days. Fantasy owners can breathe a sigh of relief that this injury should not set Taveras back much, main thing limiting Taveras' Fantasy value at the moment is that there is not a place for him in the Cardinals outfield, yet, but be patient in dynasty leagues his time will come eventually and he should be worth the wait.
Mets SP Zach Wheeler Triple-A Las Vegas
Zack Wheeler has soreness in his right clavicle and  will miss his next Triple-A start. According to Marc Carig of newsday.com, Wheeler is on his way to New York to get checked out by the team doctor, due to soreness in his right clavicle. The team has decided to be conservative and skip his next start, which is a great move in my opinion. It is not an organization's goal to win minor league championships, but rather to develop players. The added time off should give Wheeler the rest he needs to fully heal and get back on the mound for his next start. He has been pitching well as of late, after a shaky start to the season, and is expected to be called up after June 1 for arbitration reasons. If he is available in deep mixed leagues it would be wise to stash him now before he becomes the talk of the town once an official date is set for his promotion. (per RotoInfo.com contributer Matthew R. Beck, May 14th). Update: Wheeler's agent came out Tuesday and said that Wheeler's injury has "been more of an annoyance than anything else for the last couple of starts," and that "he could have continued and [it] wasn't affecting his performance," accorrding to Newsday.com.
Braves SP J.R. Graham Double-A Mississippi
Right handed pitcher, and Braves top prospect and their minor league pitcher of the year in 2012, (his first full season in the minor leagues), J.R. Graham left Monday's game after warm-ups before the start of the third inning as he felt discomfort in his throwing arm. After the game reports were that his "strength and flexibility and range of motion were fine," and that he is hopeful to make next start. Although Graham is the Braves top rated prospect he has a low Fantasy ceiling, as of now, as he is more in the mold of a Tim Hudson type as he is only striking out 7.1 per nine in his short minor league career and relies on getting ground ball outs.
Pirates SP Jameson Taillon Double-A Altoona
MLB's Top 15 prospect 21-year old Jameson Taillon allowed just two singles and three walks while striking out eight in six shutout innings Sunday for Double-A Altoona. In eight starts this season Taillon has a 2.82 ERA and has struck out 47 batters in 44.2 innings while walking 16. The key to Taillon's success, as it is for most fireball throwing prospects, is to minimize the number of free passes. Taillon is currently the pirates number two prospect behind Gerrit Cole, who would likely get the call to the big leagues first over Taillon, but if I had my choice of the two in dynasty leagues I would take Taillon, not just because his first name is Jameson, but because I have more confidence in the younger Taillon.
Diamondbacks SP Archie Bradley Double-A Mobile
Since being promoted to Double-A at the start of May, the 20-year old Bradley has made three starts (he left his second start after tweaking ankle running the bases http://www.rotoinfo.com/allplayerupdate/), and has allowed just one run in 14 innings (0.94 ERA), struck out 20 and walked six. While the safe estimate is that Bradley would be in the Diamondbacks starting rotation in 2015, I would not be surprised to see him in 2014, the key will be his ability to command his two off-speed pitches (curveball and change-up) and his 95 mph fastball. (Consider me in the camp of those who prefer to see a young pitcher who does not throw a slider). A similar highly touted prospect I would compare Bradley to would be the aforementioned Zack Wheeler, granted Wheeler throws a little harder on average and is developing a slider. (Is it just coincidence Wheeler is now dealing with an injury)? Both Bradley and Wheeler have great strikeout ability, but have a tendency to lose command of their pitches.
Astros OF George Springer Double-A Corpus Christi
The Astros' No. 3 prospect hit his Minor League-leading 12th homer of the season and finished a triple shy of the cycle in Saturday night's game. Overall, Springer is batting .292 with a Texas League-leading 29 RBIs and a 1.033 OPS in 35 games. In addition to leading the Minors in homers, the 23-year-old outfielder ranks ninth with a .646 slugging percentage and is tied for fourth with 22 extra-base hits. There are some questions as to if Springer will be exposed at the plate at the big league level, (he has struck out 47 times with just 10 walks), but the power is legit with the speed to match. If I were to compare him, Fantasy wise, I would lean towards Pirates Starling Marte.
Rays SP Taylor Guerrieri Class-A Bowling Green
Rays top pitching prospect, 20-year old Taylor Guerrieri, struck out a career high 10 over five innings, yielding just a hit and two walks for Class-A Bowling Green Sunday and was named Mid-West League Player of the Week. This was the first game this season where Gurrieri struck out more than five, and he had two games where he struck out just one. I saw Guerrieri pitch against the Brooklyn Cyclones last summer and walked away very impressed, granted he was more advanced for that level. Although Guerrieri has had his ups and downs early this season I highly recommend rostering him in dynasty leagues as he has the arsenal to get both right and left handed hitters out.
Twins OF Byron Buxton Class-A Cedar Rapids
Twins top prospect, 19-year old OF Byron Buxton, went 4-for-7 with four RBI and four runs scored Sunday, and was a home run shy of the cycle. Buxton has a slash line of .339/.452/.585 with five homers and 24 RBI on the season. Buxton is top five in the Midwest league in average, on-base percentage, and slugging percentage, proving why he was worthy of being chosen second overall in last year's Draft.
For more Fantasy Baseball insight on Minor and Major League players listen to our Shows on RotoInfo.com Radio Network by clicking on the show banners below:
---
---
---
Comments
---
Leave a Comment
Michael Pichan on Twitter